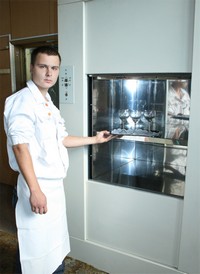 RUE «Mogilevliftmash» manufactures small-capacity freight elevators with load capacity of 100 and 250 kg, which are used in restaurants, shops, libraries.
The cabins of these elevators are manufactured of metallic modules and can be either through or non-through.
The elevator with the load capacity of 250 kg has the Bostwig-type cabin door.
The elevators can be installed into a brick or metal-framework shaft.