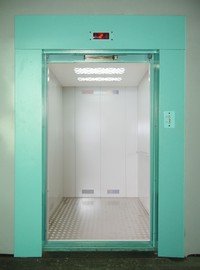 Freight elevators are manufactured with load capacity of 100, 250, 500, 1000, 2000, 3200, 5000, 6300 kg and speed movement of 0,22; 0,25; 0,4 and 0,5 m/sec.

They are designed for load transportation with the guide or without and for an installation in the residential buildings, enterprises (stores, shops, restaurant, etc.)
The elevators described are:
-manufactured in ordinary design, as hydraulic lifts and those fitted with a monorail;
- easy to install and maintain;
- provided with a state-of-the-art microprocessor-based control station;
- equipped with the improved-strength cabin;
- the cabin doors are sliding ones while the shaft doors are wing ones (the PG-241M have vertical sliding doors with manual opening).
- freight elevator with load capacity of 1000 kg (GV 1025) doors of elevator shaft and cabin are opened automatically.
The manufacture of freight elevators with lattice Botswig-type cabin doors.